Incarceron is a futuristic prison, a living building where the descendants of the original prisoners live in a dark world… A young prisoner, Finn, has visions of an earlier life, and can't believe he has always been there. Claudia, the Warden's daughter, finds a crystal key, through which she can talk to Finn and he her… and with that a plan of escape is born…

Hahaha this is one I have been wanting to read for a while… I included it on my TBR for 2018 and again on my TBR for March… I will receive it any day and IT WILL BE READ by the end of the month!!
UnWholly by Neal Shusterman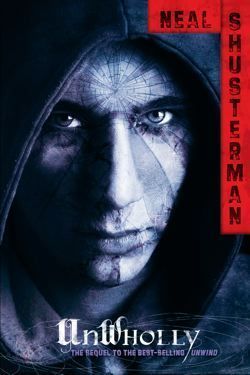 Book #2 in Shusterman's Unwind Dystology series, Cam is a product of unwinding; made entirely out of the parts of other unwinds, he is a teen who does not technically exist. A futuristic Frankenstein, he searches for identity and wonders if a rewound being can have a soul. And when the actions of a sadistic bounty hunter cause Cam's fate to become bound with the fates of Connor, Risa, and Lev, he'll have to question humanity itself.

A retelling of Frankenstein set in the Unwind world… it sounds fascinating as I'm totally sure its not possible… Still I am curious what the bounty hunter has to do with everything and Shusterman typical holds my interest…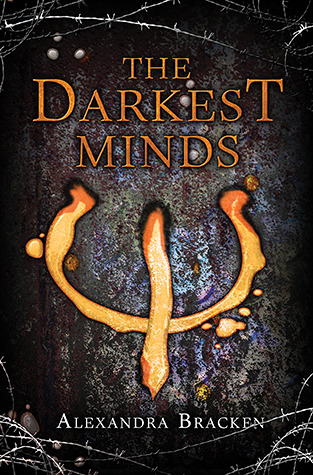 When Ruby woke up on her 10th birthday, something about her had changed. Something that got her sent to Thurmond, a brutal government "rehabilitation camp." She might have survived the mysterious disease that had killed most of America's children, but she and others emerged with frightening abilities they could not control. Now 16, Ruby is on the run, desperate to find the only safe haven left for kids like her…

I LOVE reading books that are adapted to scripts… And almost EVERYONE seems to adore this book… it even has a 4th book coming out this year. That is a lot going for it… I've seen it around a ton…
Book #1 of the CHERUB series… these agents are highly trained, extremely talented–and all under the age of 17. James is the latest CHERUB recruit. He's a bit of a troublemaker, but he's also brilliant. And CHERUB needs him. Before he can start in the field he must first survive 100 grueling days of basic training, where even the toughest recruits don't make it…

I had been jonezing to read this series for years having run across it in the library often… And looking at the reviews I'm just not feeling it now. I probably dodged a bullet here so I'm just going to count my blessings and move on…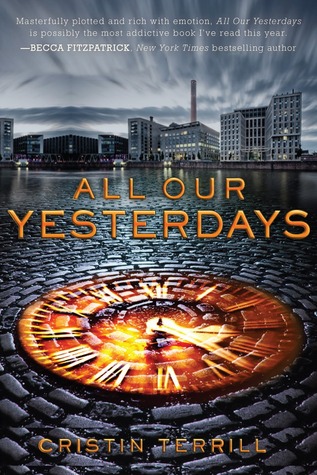 Em and Finn have a shared past, but no future unless they can find a way out. The present is torture – being kept apart, overhearing each other's anguish as the Doctor relentlessly seeks answers. Then Em finds a note in her cell which changes everything. It's from her future self… Em must travel back in time to avert a tragedy. Worse, she has to pursue and kill the boy she loves to change the future.

I'm not the biggest fan of time travel but it can be a great premise and everyone seems to adore this one… And a STAND ALONE sci-fi, time travel?! That is super rare… I really should give this a go…
Lockdown by Alexander Gordon Smith
Furnace Penitentiary: a prison for young offenders, buried a mile beneath the earth's surface. Convicted of a murder he didn't commit, sentenced to life without parole, Alex has 2 choices: find a way out, or resign himself to a death behind bars. Together with a bunch of inmates—some innocent kids who have been framed, others cold-blooded killers—Alex plans an escape. But uncovers the truth about Furnace's deeper, darker purpose…

Reviews are pretty split… either they loved it and were scared stiff or hated it and thought it had no plot… My gut says to skip it… in fact I've requested a book quite similar to it that comes out this year…!
Riley, a teen apprentice living in Victorian London, is urged to commit his first killing. He's saved from having to commit the grisly act when the intended victim turns out to be a scientist from the future, part of the FBI's Witness Anonymous Relocation Program (WARP) Riley is unwittingly transported via wormhole to modern day London, followed closely by Garrick, his boss. Now with a new modern day partner he must hunt down his warped old boss…

This doesn't quite have the ratings of these other books but it's Eoin Colfer, of Artemis Fowl fame. To be honest I find his language heavy which is why I never finished AF! So with reviews of more heavy language I'm going to have to pass…
Article 5 by Kristen Simmons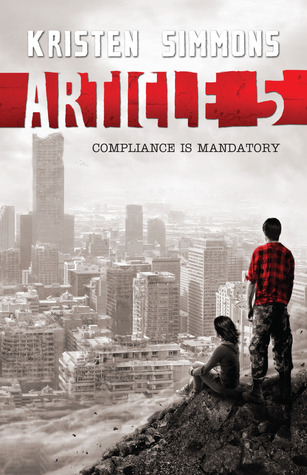 The Bill of Rights has been revoked, and replaced with the Moral Statutes. There are no more police—instead, there are soldiers. People who get arrested usually don't come back. Living with her rebellious single mother, 17 year old Ember has perfected the art of keeping a low profile. She knows how to get the things she needs, and her life is as close to peaceful as circumstances allow… until her mother is arrested by Chase, the only boy Ember has ever loved.

This is the oldest dystopian on my TBR, that like Incarceron, I have been wanting to read for years. Reading the reviews (one in particular was the nail in the coffin) this is pretty typical romance fare set in a dystopian world… honestly I think I can safely pass, finally…
Evie's always thought of herself as a normal teenager, even though she works for the International Paranormal Containment Agency, her ex-boyfriend is a faerie, she's falling for a shape-shifter, and she's the only person who can see through supernatural glamours. She may also be at the center of a dark faerie prophecy… So much for normal.

To drop one of the rare YA fae books I've seen seems stupid to me, especially as everyone seems to like Evie… but when I checked out the last book it seems it all fell to… well you get me. My gut it saying kick it, so unless anyone has some raves about it I think I'm out…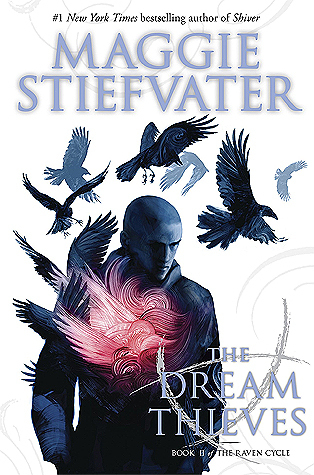 Now that the ley lines around Cabeswater have been woken, nothing for Ronan, Gansey, Blue, and Adam will be the same. Ronan, for one, is falling more and more deeply into his dreams, and his dreams are intruding more and more into waking life. Meanwhile, some very sinister people are looking for some of the same pieces of the Cabeswater puzzle that Gansey is after…

Maggie is a creative author who I can never seem to LOVE like other readers… I want to give this second book a go and try to fall for Ronan, Gansey and Adam like everyone else!! I just wish they didn't read like 30 year olds…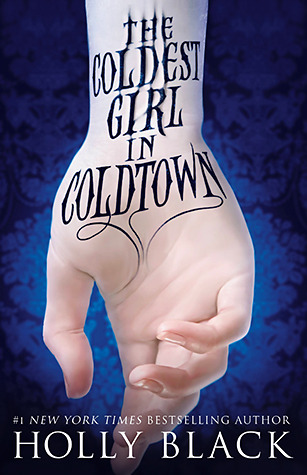 One morning, after a perfectly ordinary party, Tana wakes up surrounded by corpses. The only other survivors of this massacre are her exasperatingly endearing ex-boyfriend, infected and on the edge, and a mysterious boy burdened with a terrible secret. Shaken and determined, Tana enters a race against the clock to save the three of them the only way she knows how: by going straight to the wicked, opulent heart of Coldtown itself.

I have a love hate relationship with Holly Black… I recently heard someone I trust RAVE about it… so I kind of want to give it a go… If I dislike this one though I think I'll just skip Holly Black books… we may just not click…

Do you try to read books you missed that were popular when they came out a few years earlier?
So slashing half of such highly rated books is not bad, it could have been way worse! All (but 1) of these have a minimum 20,000 ratings and 2,000 reviews… When a book has gathered that many opinions it sometimes makes it mush easier to decide if I will love it or not… YOU TELL ME THOUGH… Is there more I should cut? Or one I should keep?! Please weigh in…

Thanks for Reading XOXO