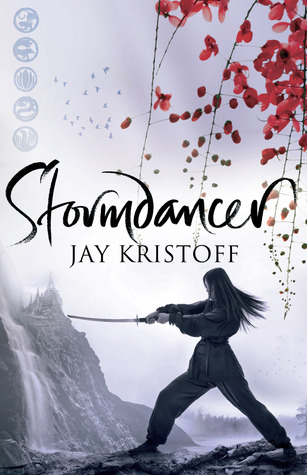 Arashitoras are supposed to be extinct. Soon Yukiko finds herself stranded: a young woman alone in her country's last wilderness, with only a furious, crippled arashitora for company. Although she can hear his thoughts, and saved his life, all she knows for certain is he'd rather see her dead than help her. Yet trapped together in the forest, Yukiko and the beast soon discover a bond that neither of them expected.

This has a crippled arashitora, a "storm tiger" or griffin creature in it that I am DYING to read about… (As I adore books with animals!) Which is rather ironic as it is NOT one of the books that I have sought out during my month of hype… But it is a book I'm excited to read! A sort of dystopia there is a racial cleansing happening with war machines and chainsaw katanas?!
A tormented teen named Evan starts to discover a series of unnerving photographs—some of which feature him. Someone is stalking him . . . messing with him . . . threatening him. Worse, ever since his best friend Ariel has been gone, he's been unable to sleep, spending night after night torturing himself for his role in her absence. And as crazy as it sounds, he's starting to believe it's her behind all of this, punishing him.

Eh… After Miss Peregrine's photographs this short fad has lost its allure…  I can't even say I'm curious after the rash of bad reviews saying basically the same thing… Angst HELL and a random story build around random photos.
The adult population is gone, having succumbed to the Tone—a telepathic super-signal broadcast across the planet reducing them to complete subservience. But there's one critical flaw. It only affects those in their early 20s, which means that children can resist. Holt is a bounty hunter, and his current target is Mira, a treasure seeker with a price on her head. He bags his prey, but their instant connection isn't something he planned on. Neither had he the young girl who has special powers…

With 94 other dystopian waiting for me I think I will pass on this one… The final book was not as well though of as the first one and while I am intrigued do I really want the adults to return?!
Kendra has always felt overshadowed by her older brother, Grayson, whose OCD forces him to live a life of carefully coordinated routines. The only way Kendra can stand out next to Grayson is to be perfect, and she has perfection down to an art — until a cheating scandal threatens her flawless reputation. They hit the road, Kendra deciding with enough distance, maybe she'll be able to figure everything out…

I'm not a fan of modern road trips… I don't mind it in a fantasy for some reason but how many times can we drive across America?! So despite the fascinating OCD I'm going to… (Especially since a friend says its just okay…)
For 15-year old Saya, the war is far away and unimportant–until the day she discovers she is the reincarnation of the Water Maiden and a princess of the Children of the Dark. Raised to love the Light and detest the Dark, Saya must come to terms with her heritage even as she is tumbled into the very heart of the conflict that is destroying her country. Can Saya make the dreadful choice between the Light and Dark, or is she doomed like all the Water Maidens who have come before her?
With only 22 Asian to-read books on my TBR I think I'll keep this one… With a modern cover I may be more interested in it… I do LOVE the idea that she has to take a path that is LESS traveled than others before her… If she wants to end the conflict it will only happen through her attitude!
The Book of Heroes by Miyuki Miyabe, translated by Alexander O. Smith
When her brother Hiroki disappears after a violent altercation with school bullies, the young Yuriko finds a magical book in his room. The book leads her to another world where she learns that Hiroki has been possessed by a spirit from the Book of Heroes. She visits the magical Nameless Land, where she is told how to save her brother, and is sent back to Earth with a young monk named Sora and the magical book, now a mouse named Azu. Yuri has to piece together the mystery of Horiko, and has a library of powerful magic books at her disposal to do so!

I was going to cut this book despite liking what it was about because I frankly am tired and don't know what I'm thinking! BUT blessedly I noticed the translator! YES! The translator is one I recognize… his work is great and makes the stories come alive!!
For high-schooler Yoko Nakajima, life has been fairly ordinary–that is until Keiki, a young man with golden hair, tells Yoko they must return to their kingdom. Once confronted by this mysterious being and whisked away to an unearthly realm, Yoko is left with only a magical sword; a gem; and a million questions about her destiny, the world she's trapped in, and the world she desperately wants to return to.

Oddly I've read the beginning of this long ago and always wanted to finish it! It's labeled as a manga but in reality it is a light novel. I.E. a regular book. A manga company published it… Anyway, so yeah with the translator and the story going for it I think I will…
Don't get yourself noticed and you won't get yourself hanged. In the faery slums of Bath, Bartholomew Kettle and his sister Hettie live by these words. Bartholomew and Hettie are changelings–Peculiars–and neither faeries nor humans want them. One day Bartholomew watches a mysterious lady in a plum-colored dress whisk away, in a whirling ring of feathers, the boy who lives across the alley–he forgets the rules and gets himself noticed.
A cross between a murder mystery, gothic fantasy, and steampunk adventure… Sounds yummy… at 54 I don't NEED another middle grade book… But that cover looks so good… The reviews were quite polarized… They either hated it or loved it… *sigh*
To escape destruction decades earlier, humankind was forced underground, into the depths of the earth, creating a new society called the Tri-Realms. After her parents and sister are abducted by the Enforcers, Adele must escape from the Pen and find her family, while being hunted by a deranged, killing machine named Rivet, who works for the President. Other than her friends, the only thing she has going for her is a wicked roundhouse kick and two fists that have been well-trained for combat by her father.

I'd like to try a David Estes book and this one is quite well thought of… so I DID NOT look at the later books except to see that it is on book #4 and it is the end of 2 different series?! Intriguing! So lets give the first book a try!
Exodus by Julie Bertagna
Mara's island home is drowning as the ice caps melt and Earth loses its land to the ocean. But one night, in the ruined virtual world of the Weave, Mara meets the mysterious Fox, a fiery-eyed boy who tells her of sky cities that rise from the sea. Mara sets sail on a daring journey to find a new life for herself and her friends – instead she discovers a love that threatens to tear her apart …

I was all for keeping this book… I LOVED the sound of it and it had great ratings and sound reviews… Then I stupidly checked on the 3rd book like I'm prone to doing and everyone was SO, SO disappointed in how it ended! And book 2 didn't get much accolades either. *sigh*

Is there a micro-genre you find hard to let go of on your TBR?
A cross between Asian reads and various different dystopia… I feel pretty good cutting half. That dooooooeeeesss mean I KEPT half too but Asian books that I have been recommended highly are hard to part with. YOU TELL ME THOUGH… Is there more I should cut? Or one I should keep?! Please weigh in…

Thanks for Reading XOXO