BOOKSTAGRAM MONDAY IS HERE!! I was totally intrigued by the cover! This is an ARC version of a cover buy, lol… Will I regret it?! Intrigued?! Come check it out…
The Hazel Wood by Melissa Albert
The cover really sucked me in!! A dark creepy forest and dark fairy tales! Thinking about it now the premise says very little, we add to it due to the cover… because HOW PRETTY IS THAT COVER!!? Even with only browns and greys on black it tells a story that is intriguing…
Family seems to be at the center of the Alice's motivation which sounds like a good thing to me… I kept the bookstagram picture simple as I don't know much more about the story. It seems Gothic in tone and is set in a dark and scary wood.
About The Hazel Wood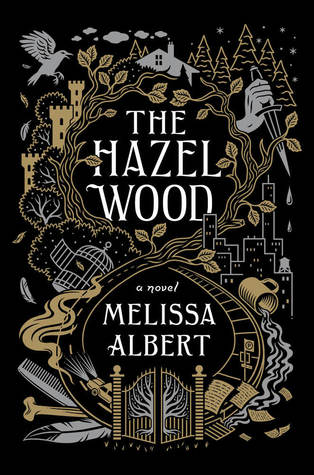 Seventeen-year-old Alice and her mother have spent most of Alice's life on the road, always a step ahead of the uncanny bad luck biting at their heels. But when Alice's grandmother, the reclusive author of a cult-classic book of pitch-dark fairy tales, dies alone on her estate, the Hazel Wood, Alice learns how bad her luck can really get: her mother is stolen away―by a figure who claims to come from the Hinterland, the cruel supernatural world where her grandmother's stories are set. Alice's only lead is the message her mother left behind: "Stay away from the Hazel Wood."
Alice has long steered clear of her grandmother's cultish fans. But now she has no choice but to ally with classmate Ellery Finch, a Hinterland superfan who may have his own reasons for wanting to help her. To retrieve her mother, Alice must venture first to the Hazel Wood, then into the world where her grandmother's tales began―and where she might find out how her own story went so wrong.
---
by Melissa Albert
Published January 30th 2018
by Flatiron Books
---

What vibe does the cover give you? Are you drawn to it?!
Do you cover buy? I normally don't but Netgalley has a way of sucking you in with their plethora of books yet to be published! I think I may have gotten myself into trouble with this one from scanning some ratings… I'm reading this by the end of the month so I'll let you know what I thought!

Thanks for Reading XOXO