BOOKSTAGRAM MONDAY IS HERE!! With a DIVERSE protagonist and dual POVs… all wrapped up with sibling relationships in a contemporary setting… it has a mix of EVERYTHING!! *happy dance* Come check it out…
#ARCstravaganza is a weekly meme hosted by Flavia at Flavia the Bibliophile to give book bloggers a chance to show off the ARC/eARC beauties they received and spread the word about their most anticipated new releases! (Check out her page for more information.) Feel free to post your photos on your blog, Instagram, and Twitter with the #ARCstravaganza hashtag…
---
A Taxonomy of Love by Rachael Allen
I'm excited to read this contemporary as I would like to understand what it feels like to have Tourette syndrome. My nephew is special needs and while the two conditions are TOTALLY DIFFERENT there is this common factor of how others treat them… I also am digging that this book is focused on siblings as well! I've read good things so SUPER EXCITED to be in on this book as an ARC…
So…MUCH BETTER PICTURE! I actually positioned the tablet so I could crop more of the screen off which worked better… and I did my research… Plenty to put in the pic… The figures represent the sibling relationships and butterflies are on the cover… I assume representing the ones in our tummies from meeting a special someone!
---
About A Taxonomy of Love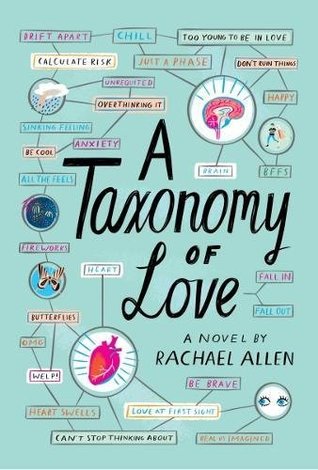 The moment Spencer meets Hope the summer before seventh grade, it's . . . something at first sight. He knows she's special, possibly even magical. The pair become fast friends, climbing trees and planning world travels. After years of being outshone by his older brother and teased because of his Tourette syndrome, Spencer finally feels like he belongs. But as Hope and Spencer get older and life gets messier, the clear label of "friend" gets messier, too.
Through sibling feuds and family tragedies, new relationships and broken hearts, the two grow together and apart, and Spencer, an aspiring scientist, tries to map it all out using his trusty system of taxonomy. He wants to identify and classify their relationship, but in the end, he finds that life doesn't always fit into easy-to-manage boxes, and it's this messy complexity that makes life so rich and beautiful.
---
by Rachael Allen
Published January 9th 2018
by Amulet Books
---
Will the rep work in the story? I sure HOPE so! And YES to siblings… are these relationships you want more of?!
Do you read ARCs or instagram? Does A Taxonomy of Love sound intriguing? My review coming start of January!!