Do you take part in a book club?! I do and this group has several books that I put on my TBR just to share with my group… should I keep them? Come weigh in…
Regularly I hit up my TBR shelf and pick off six books that have been there the longest and examine the pros and cons to keeping them or skipping them. My first aim is to cut my TBR shelf down by a third. My second aim is to sort those I keep into three piles: read soon, "keep" or someday. Did I make the right choice?
A family who lives in an amusement park in a swamp, wrestling alligators and entertaining fat tourists… Mom, the star of the show, recently passed away. Ossie, the waifish older sister, is having an affair with a ghost. Dad is delusional about the family's prospects. Which leaves 13-year-old Ava and 16-year-old Kiwi to try to salvage the bankrupt wreck the family park has become.

I think I wanted to read this for my book club…? We bring a book to a party in December that we've read and loved… Their tastes are TOTALLY different from mine and this sounded up their alley… Now I… yeah I read a review and just no!! I HATE inconsistent details…
A girl becomes the head of a mafia family and suddenly her ex is poisoned with chocolate that is produced illegally by her family… The D.A. frees her believing she has been framed on the condition that she not see his son, Win. Anya can't do that even though she risks the safety of her family to see him…

I know that I am sometimes seduced when I see dystopia in the genre types… but I have ZERO interest in the mafia and I already think Anya is as stupid as a box of rocks… (And lets not even mention the horrid cover…) So yeah… you guessed it…
17-year-old Del made a serious mistake with his cell phone and now he has a criminal record that prohibits him from achieving his dreams… At his after school gig digging graves he meets Livia and starts to hope again… then he thinks about having to reveal his past…
Yeah I'm surprised about this one… I'm not really sure I actually want to read it but I'm really intrigued by all the high ratings and how you resolve such a depressing history… I personally think he should apply to the court to seal his juvie records… but yeah I haven't read the book yet to see if that is the conclusion…
Gilt by Katherine Longshore
The rise & fall of Catherine Howard, King Henry VIII's wife, as witnessed by her servant & friend Kitty Tilney. "But court is full of secrets, lies, and sordid affairs, and as Kitty witnesses Cat's meteoric rise and fall as queen, she must figure out how to keep being a good friend when the price of telling the truth could literally be her head."

Since this is historical fiction I sort of want to KEEP it… Also it seems it is dual POV with Cat and Kitty, which supports the decision… Then I read this 4 star review where the reader RANTED about Cat and how much she HATED her… *sigh* I am decidedly LESS interested in a ANTI-HERO… ONLY with a recommendation from a reader I trust would I read this now… and geeze it had the potential to be a book club book too…
A porn star burned in a car crash, and the a wealthy schizophrenic who takes care of him at her home. A love story than spans all time and takes the reader on a journey around the world…

Another potential book club read that I NEVER did get too and learning that the "gargoyle" is really a porn star takes away the allure of the title and the cover which I was CLEARLY seduced… I'm just not in the right frame of mind for a reincarnation story and don't know that I EVER will be… anyone read and love this book?!
Chime by Franny Billingsley
Briony has worn her guilt for so long it's become a second skin. She often escapes to the swamp, where she tells stories to the Old Ones, the spirits who haunt the marshes. But only witches can see the Old Ones, and in her village, witches are sentenced to death. Briony lives in fear her secret will be found out, then Eldric comes along with his golden lion eyes and mane of tawny hair and treats her as if she's extraordinary. And everything starts to change.

Actually this could go very WRONG or very RIGHT and supposedly has a challenging narrative style that peaks my interest… so YES! Finally one to keep AND slot in under historical… I think this could be a great book club choice as well with the light romance and the time period and narrative style! Plus her twin sister is autistic / obsessive-compulsive, so diverse!!

Legacies by Mercedes Lackey, Rosemary Edghill
"All the students at Oakhurst have magical powers, and although Spirit hasn't manifested itself yet, the school insist she has one. Spirit isn't sure she cares. Devastated by the loss of her family, she finds comfort with a group of friends: Burke Hallows, Lachlann Spears, Muirin Shae, and Adelaide Lake. But something strange is going on at Oakhurst. Students start disappearing under mysterious circumstances, and the school seems to be trying to cover it up."
Mercedes Lackey co-wrote this book?! It sounds fun but also like a Harry Potter rip off… And yeah the rating of this says 50% of readers thought it was a 3 star or LOWER… Not a hard decision!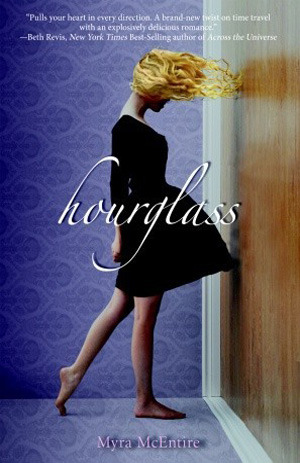 "Plagued by phantoms since her parents' death, Emerson just wants the apparitions to stop so she can be normal. She's tried everything, but the visions keep coming back. So when her well-meaning brother brings in a consultant from a secretive organization called the Hourglass, Emerson's willing to try one last cure. But meeting Michael Weaver may not only change her future, it may also change her past."
This sounds super cool and about TIME TRAVEL! The series follows the Hourglass group but it doesn't sound well executed… Meh… so many readers lost interest later in the series… NOT a good sign.
Harbinger by Sara Wilson Etienne
Plagued by waking visions and nightmares, inexplicably drawn to the bones of dead animals, Faye thinks she's going crazy. So she's sent away to an odd uncomfortable school where she makes friends who wake up every morning with their hands stained the terrible brown red of dried blood. Plus a guy Kel may be trying to kill her but she's drawn to him anyway…

WHAT IS WRONG WITH MY YOUNGER SELF?! hahhhhahaha… yeah. If I could stick my arm in the book and experience it all in that moment then I would SO READ THIS BOOK! But since I have to spend hours of my life I think its safe to pass…
Reporting on a commercial flight where everyone aboard lost their memories, a young journalist stumbles onto a much bigger story – the top-secret Mind Management program. We follow as she attempts to find the flight's missing passenger, the man who was MIND MGMT's greatest success – and its most devastating failure.
Loose watercolor ART! oooohhhh it sounds like a great graphic novel style (though I'm not really a fan of the cover?!) But repetitive and clunky… Hmmm, a graphic novel is EASY to digest so i think I may want to hold onto this one for…
---

Okay so yeah I was BRUTAL! Did I cut a favorite of yours? LET ME KNOW!
Any of these sound up your alley?! There's magical realism, time travel, reincarnation, historical… A lot of genre favorite…
What books would you bring to a women's book club?