I have finally written my review of this book… it was hard and scary and I wanted to quit and just keep silent! Unfortunately (for me in this moment) I am not the quitting type… so here it is… an unpopular opinion!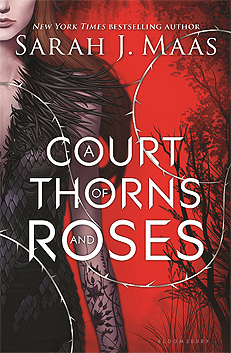 A Court of Thorns and Roses
A Court of Thorns and Roses #1
by Sarah J. Maas
Published May 5th 2015
by Bloomsbury USA Childrens
Feyre is the sole provider for her family and feels the pressure with winter come and not enough to feed everyone. So when she and a wolf come to head over a deer she does what she must and kills it and takes the prize. Dragged over the wall to the land of faerie, she must serve out her days there for murdering and skinning a member of the fae. As she draws closer to her captor she doesn't find her time there such a burden and when she learns of a curse she goes on the hunt for a way to break it…


I have wanted to read this book for a while… I've seen it on so many lists and it seems to be the poster child for retellings! I finally bit the bullet and was quite shocked…
This book gave me fits from the first pages…
I was terribly annoyed that a book with such a hyped history had so much damn telling! YES PEOPLE I SAID DAMN! A lot of books start with mucho telling but it settles down as the writer gets into their story so I hung in there… At first I really liked Feyre. Her backstory with her father and sisters basically commands us to sympathize with her at first.
After that ridiculous scene with the wolf (one that felt like terrible writing rather than something deliberate, even looking back with what I know now it feels that way…) I was pleasantly surprised by the whole treaty thing and Tamlin and the shapeshifting… These are all details that while not scintillatingly creative at least were nice takes on the beauty and the beast story. I liked that it was Feyre's actions that doomed her rather than something her father did for her.
Then we get to his estate and meet Lucien! He's red haired and fox like with a mask that hides a scar and a carved gold orb for an eye replacement… cool, right?! But he's NOT the beast… huh, what?! It's like Maas had two ideas for a beast and decided that one could be the lover and the other could be the friend everyone wants to… hang out with! While a really cool character I felt like Lucien was a writer device to make the time between beauty and the beast less boring because he could relay info to Feyre and he could be someone she overhears talking!
This is just the first 15% of the book! And it continues in this manner the ENTIRE TIME! I would LOVE one aspect of the story and another aspect would be TOTALLY ANNOYING! Now that we are at the real setting of the book (Tamlin's estate) there are no longer natural reasons to sympathize with Feyre and she becomes a TOTAL B*TCH! (No I normally don't cuss but THIS GIRL!) This is me about her at 16%…

"Feyre is hard to take… SHE MURDERED A LIVING SENTIENT BEING and claims it was them that did this to her… it was herself… her choices and she's kicking and screaming over the consequences… HER LAZY ASS SISTERS can get to work!! BUT NO THE REALLY COOL FAE LORDS are taking care of them… THEY'RE GLAD YOU'RE GONE… DUH!"
I have MANY MORE RANTS about this CLASS ACT but this one from 20% sums up my feelings for Feyre perfectly…

"Okay Belle never begrudged paying the punishment for her father stealing that rose… but this class act is gripping about being punished FOR KILLING SOMEONE! There is no comparison to Belle! Feyre is like a white supremacist who thinks killing anyone different from them is a gift that should be rewarded instead of punished! I think she deserves to die personally!!"
By 30% there are some ROCKIN' fae creatures that attack and battles and saving and all kinds of excitement! One of my favorite is when Fire Night comes and when the glamour that she unknowingly had was stripped away… So by 50% much of the Feyre I had been experiencing… the selfish nonsensical "fighter just to fight" girl is gone. Then 10% later this half of the book is done and 10% after that she finally lets go of her past so she can learn the truth.
The point being that everything was paced either too swifty or too loooooooooooong. This transition is also where the MAIN connection to the Beauty and the Beast story lies (in my humble opinion)… the fact she came back. (The retelling part is quite light.)
It's in the LAST 30% that I find the REAL STORY!
And its good! Quite good actually… We get to know the tantalizing Rhysand and Feyre's hunting skills and perseverance and stubbornness are put to good use. The end was well done and while I'm not sure Feyre loved Tamlin enough to actually do all this it was a satisfying way to end these two arcs.*
What this journey has shown me is that this writer IS PERFECT at developing a world and crafting characters with the potential to move the reader… but she HAS NOT mastered the art of execution. This is a GREAT STORY with too many words used too weakly and too inconsistently. I'm sure writing this has caused great growth and I hope to read that growth in book 2!
---
As a Reader…
While I HATED Feyre's first arc and I HATED the girl she was IN that first arc… I LOVE that she became the girl in the second arc. And I actually am QUITE EXCITED to read the next book which i have heard is WAY BETTER than book #1. With this book I had an odd feeling the entire time that this was ALL just setup… Almost like is was backstory to another larger story… Perhaps it is and I'll find that GREATER story in book #2…

Fae! Retellings! Beauty and the Beast! Love Triangles! Girl Angst!
---
*The story with Tamlin and being taken to his estate could be considered one story. Then her return to Amarantha's court could be considered another story where she interacts with Rhysand rather than Tamlin. Supposedly story #1 is motivation for story #2 with the end of story #2 providing the end for both story #1 and story #2.
As a writer I would LOVE to rewrite story #1 and tighten, tighten, tighten. I would want it to focus on the mystery elements MORE and consciously develop interactions between Tamlin and Feyre where each one reveals a piece of the puzzle. Then I would space bigger scenes like when Rhysand first appears in between these interactions for a really balanced structure.
---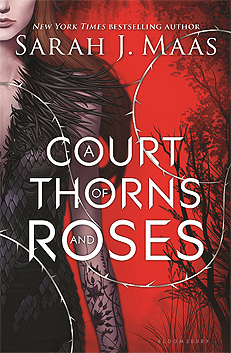 .
⭐⭐⭐⭐⭐ Premise & World Building
⭐⭐⭐⭐⭐ Cover & Title
⋆ ⋆ ⭐⭐⭐ Development & Storycraft
⋆ ⋆ ⭐⭐⭐ Writing & Narrative
⋆ ⋆ ⋆ ⭐⭐ Plot & Pacing
⋆ ⋆ ⭐⭐⭐ Relationships
⋆ ⋆ ⭐⭐⭐ Feelings

1/2

A smashed up love story in a brutal fae world!
---
I'm sure I'm the last person on the planet to have read this… (if not then lets commiserate!) So what did you think? Did you love it? What didn't you like?
Can you see yourself in Feyre's shoes? Acting like she did?
Who would you choose… Tamlin, Lucien or Rhysand?
Thanks for reading XOXO