This week's topic is a book featuring our favorite villain or morally ambiguous character. This isn't so much my favorite one as a morally ambiguous character that gets me all hot and bothered…! (I'll let you interpret that…) But irregardless the covers are worth killing for…
---
Book Traveling Thursday is a weekly meme hosted by Lauren @ Comma Hangover… she is the third and newest host since Catia and Danielle stepped down. You pick a book based on the theme of the week and post the original cover, your country's cover, your favorite cover, and your least favorite cover. Check out the group Book Traveling Thursday on Goodreads for the weekly topics…
---
Red Queen by Victoria Aveyard
The Reds are commoners, ruled by a Silver elite in possession of god-like superpowers. When Mare starts working in the Silver Palace she discovers she possesses a deadly power of her own despite the red color of her blood. As she is forced to hide in plain sight she learns of the Red Guard, a militant resistance group, who hope to bring down the Silver regime.
---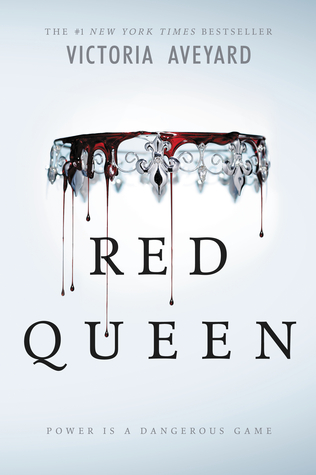 The original cover is quite beautiful! It's clean and modern in the best of ways! I think the crown and the blood is a very intriguing symbol of what is potentially in the book… which is a cruel and upside down world. It certainly speaks to the cold and selfish nature of our morally ambiguous protagonist, Mare.

There is something intriguing and alluring about bejeweled items that draws your interest as a reader…
---
The worst cover was the Ukranian cover though it certainly wasn't the worst I've ever seen. The graphic nature of the art doesn't suit the world… That dress is hideous! It looks like some rip off of the queen of hearts in Alice in Wonderland… not the feeling you want to give the book at all! The genre is a dystopian after all…
---
I also quite liked the Hebrew cover though it didn't outshine either the American cover or the German… I loved that her ability was showcased instead of the queen element! It lacks the elegance of the more superior covers… Fascinating that all three of the covers outside of America have different color hair showcased…
---
The best cover to me is surprisingly the German cover! I mean WOW! I normally do not like covers with real people but I think the soft photography and dual colors speaks to the odd melding of the world's technology and medieval elements. It takes the focus off Mare's nature which to my mind is a good thing… though you still understand that she is at the center of it all! It gives me this sense of a girl coming to an awareness of her power… not a bad thing for a book aimed at women and girls.
---
Have you read Red Queen? Did you finish the series?
Did you identify with Mare? Do you find her morally ambiguous?
Thanks for reading, XOXO