Did you buy into the MEGA dystopia craze about 5 years ago? Do you still enjoy the genre? How about mental illness, revenge and historical mysteries? Come weigh in…
Regularly I hit up my TBR shelf and pick off six books that have been there the longest and examine the pros and cons to keeping them or skipping them. My first aim is to cut my TBR shelf down by a third. My second aim is to sort those I keep into three piles: read soon, "keep" or someday. Did I make the right choice?
A girl is kidnapped and it takes her parents two days to realize… NOT that she wants to escape as her loved one is an abusive boyfriend. For the first time she's part of a family and decides to gamble on a kidnapper falling in love with her…
I admit I have quite a fascination with Stockholm Syndrome and have read quite a few books on this subject in the past… what intrigues me about this one is that it's a series that follows the girl into the aftermath of her kidnapping experience… So yeah, maybe someday…
Callie lost her parents during the Spore Wars and now must rest out her body to Enders—seniors who want to be young again. She does this for the survival of her brother Tyler and their friend Michael… until the chip malfunctions and she wakes up in the life of her renter… a renter who intended on doing more than party…

This dystopia sci-fi sounds right up my alley! Looking at the series it seems to be a duology and not many readers liked how it ended… While I'm somewhat intrigued I've got to cut somewhere and it sounds like it could go all sorts of icky places…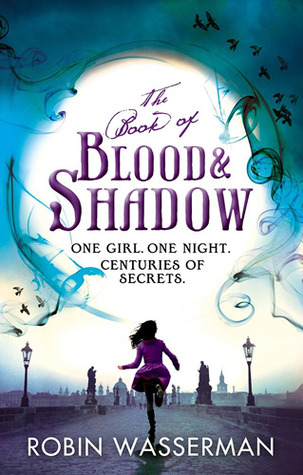 It was like a nightmare, but the next morning, it was all still true: Chris was dead. His girlfriend Adriane, Nora's best friend, was catatonic. And Max, Nora's sweet, smart, soft-spoken Prince Charming, was gone. He was also—according to the police, according to her parents, according to everyone—a murderer. Desperate to prove his innocence, Nora follows to the ancient streets of Prague, where it is said that he who controls the Lumen Dei controls the world…
Historical mystery set in Prague… I like the sound of that… I did read a review which gave me pause as I'm not particularly a fan of "long sentences, a little too much of the stuff that we don't really care about like translations" so yeah I'm on the fence with this one but the setting sounds super cool and a strong aspect of the story…
Burn for Burn by Jenny Han and Siobhan Vivian
"KAT is sick and tired of being bullied by her former best friend. LILLIA has always looked out for her little sister, so when she discovers that one of her guy friends has been secretly hooking up with her, she's going to put a stop to it. MARY is perpetually haunted by a traumatic event from years past, and the boy who's responsible has yet to get what's coming to him." They can't act of their revenge alone but together will show Jar Island that revenge is a dish best enjoyed together.

Yup, this is written by Jenny Han and I totally love her Lara Jean books and I've heard so many great things about this series so I'm hoping to love it! I'm not sure about the motivations these girls have… it may go totally high school trope hell on me… but surely it'll be fun along the way?!
Feed by Mira Grant
"The year was 2014. We had cured cancer. We had beaten the common cold. But in doing so we created something new, something terrible that no one could stop. The infection spread, virus blocks taking over bodies and minds with one, unstoppable command: FEED. Now, twenty years after the Rising, bloggers Georgia and Shaun Mason are on the trail of the biggest story of their lives—the dark conspiracy behind the infected."
Yeah I heard this was a must read for all zombie lovers… not I'm NOT so in love with zombies and I heard from another reader that it is science heavy and NOT survival heavy so this is an easy one for me!
A teenage girl leaves a sealed bunker after years in hiding, only to find Los Angeles devastated and haunted by humans infected with a mutated rabies virus

This fraction of a review I read says it all… "But in such a grave situation … the survivors still managed to have enough guns and bullets left to protect themselves; they still had enough gas to start their cars; and they still had enough water supply to run a shower and they had an almost perfectly reliable electrical supply, whenever they felt like it." What's the point of the book then?!

---

Did I cut a favorite of yours? Did I keep a stinker?
Is there a book I must read ASAP?
Are you a fan of Jenny Han? Have you read Burn for Burn?
How about historical mystery stand-alone books? Intrigued?
Are dystopia a turn off nowadays?