Have you ever felt guilty? That deep dark feeling in the pit of your stomach when you acted childish or mean then regretted it but its too late to go back now… Then you'll be intrigued by this book!
---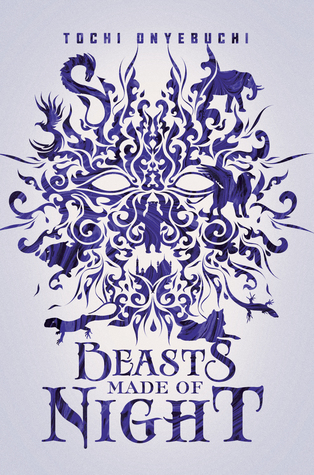 Beasts Made of Night
by Tochi Onyebuchi
Published October 31st 2017
by Razorbill
In the city of Kos the nobility task mages with magically calling forth their sins in the form of sin-beasts… But what to do with the lethal creatures spawned from the guilt? Pay a pittance to aki, young sin-eaters to kill the creatures and take the sins on themselves. The cost to these children is a physical tattoo as well as the sin appearing in their minds, accumulate too many and the aki is driven mad. Taj is the most talented aki in the city, refusing to take the emotional toll he stays distant from everyone in the hopes of staying alive… until he crushes on a princess who has other plans for him.
---
Thanks to Penguin First to Read for providing me with an ARC in exchange for an honest review. This has not influenced my opinion.
I'm going to be really controversial here and state that Taj is very diverse, almost uncomfortably so… and I LOVED that about him!
He isn't just an American with dark skin, no, no, he is Nigerian. He not only acts Nigerian and is even given movements that speak to his heritage, but he is a genuine 17 year old boy and shares common traits to all teenage boys. So if you're looking for a cookie cutter character that looks the look but doesn't walk the walk then this book isn't for you… it's definitely aimed at readers who ENJOY own voices and the authenticity of characters no matter their diversity or their commonality!
(The talk about the poof and the hair is so cute and such a marvelous way you remind us of his racial profile without being overt about it! ♥️)
---
The setup was EXCELLENT!
Onyebuchi is on his way to being a gifted author. I loved the way he showed us the city. We got the layout and the power struggles all through well developed scenes and natural moments when circumstances could be brought up without feeling like info dumps. This IS NOT YOUR TYPICAL narrative! You are NOT simply being TOLD everything by Taj… he is taking you around and letting you decide for yourself… its on the reader to connect many of the dots and infer… I LOVE this type of story craft!! It makes for a more immersive story where you start to put yourself in the same circumstances as the protagonist.
---
Not ALL Readers are going to enjoy it…
Simply being that the MC is a boy… a 17 year old boy who DOES NOT act like a 30 year old but a REAL LIVE 17 year old… Yeah so he kind of falls a little for each girl he meets and hits on them. He's unabashedly crushing on a princess… well because she's pretty and nice to him. He over thinks the situations he's in and thinks of them from a more self centered position. BUT, you say, I'M FINE WITH ALL THAT! Yes, but that is all paired with a more immersive prose where you have to become that 17 year old boy… SO THE STORYCRAFT is EXCELLENT but if you don't connect to that boy there isn't a whole lot in the prose to float you along.
The prose is rich in details but lacks the overt emotionalism of say Laini Taylor. It's good writing but IT IS NOT what YA readers are used to. Personally I would have stripped the narrative of some of the description since the POV dictates that the reader must follow him through the environment and frankly its too cluttered as is…
---
Sin-Eaters Rule!
Still I personally was fascinated with the world building and the sin-eating premise! The way the sin-eating process was worked was creative and freaky… the inisisa were difficult to battle and yet were a great physical manifestation of sin. The city of Kos was rather isolated and created this very small world in which the story takes place. The little details about their culture like the jeweling and the artists who paint the walls enriched that world. We only get hints about outside and so its all about the nobility and what they want at any given time. The fact that they continually combed for kids to force out of their homes to eat sins was quite heart breaking to me. There is this very real use of children that gave the world authenticity…
---
Now for the plot…
At about 40% and the plot starts to unwind… It's not bad or wrong but it IS NOT the direction one expects when told a story is about sin-beasts and those who eat them… we start to see here that the story is actually more slice of life with Taj at its center. While I enjoyed the book, at this point, the story feels almost completely devoid of plot. It DOES have plot but we don't know ANYTHING of what is affecting Taj's circumstances so it all feels random and rushed. There are characters in the background fighting for their ideas and dreams for the city and they affect Taj but we ONLY SEE the outcome.
---
The killer insta-love!
I actually enjoyed Arzu, Zainab, Aliya and Bo who are all friends with Taj at one point or another coming and going with the larger plot changes but none of them were with Taj consistently enough for me to feel attached. And because of the nature of the prose we didn't feel Taj's own attachment! Stronger plot with more events would have helped with this relationship problem… I was really interested in Taj's relationship with Bo but then that friendship is abandoned and when Bo reenters the story its dissatisfying! There is the idea thrown around that there was insta-love… it's more a crush like boys his age are wont to have, still it smacks of another element that just doesn't jive with what YA readers enjoy.
---
Overall as a reader I LOVED the world…
I NEED more from the world and would definitely be up to read the next book in the series! While the end was not the steady, strong start, being a little muddled and rushed, it was twisty with a lot of battles! BATTLES were what we were looking forward to all along… I also think most will be surprised by the end, unfortunately if you didn't engage with Taj you may not care… That doesn't change the fact that Taj grew through the course of his book and came out the other end a better 17 year old than he went in!
Male Protagonist! Diversity! World Building! Mythology! Slice of Life!

---
I actually enjoyed Zainab MORE than Taj and could have seen her as a potential 2nd POV character. In fact this world and the prose would have benefited from a multiple POV treatment. Simply because the story lacked tension… it is certainly the major problem with any book that follows a slice of life sort of narrative.
If we had been allowed to understand what was going on with Bo… and perhaps Aliya or Arzu even we could have felt that there was something bigger going on without Taj knowing a thing about it! Also they could have helped the reader to understand Taj some as the girls could have noted that he was a fool for the princess, etc. That is why I love Zainab, if it were to be only a dual POV narrative, to have her be the other. She has a great head on her shoulders and we could have seen Taj in more of the growing up light that he really was in!
---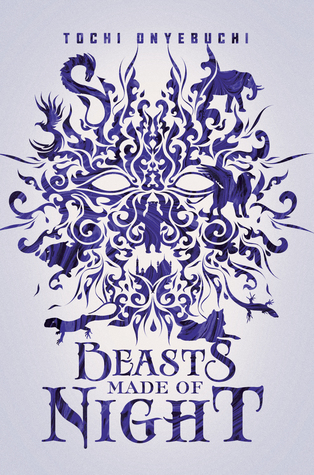 ⭐⭐⭐⭐⭐ Premise & World Building
⋆⭐⭐⭐⭐ Development & Storycraft
⋆⭐⭐⭐⭐ Writing & Narrative
⋆ ⋆⭐⭐⭐ Plot & Pacing
⋆ ⋆⭐⭐⭐ Relationships
⋆⭐⭐⭐⭐ Cover & Title
⋆⭐⭐⭐⭐ Feelings

A Nigerian boy who must eat sins at the whim of the nobility… a great debut book!

---
How do you feel about ends? Do you think they should decide the final star rating?
Is insta-love (whatever its form) a deal breaker to you? Is there a difference between a crush and insta-love?
Do you want to read Beasts Made of Night now?
Thanks for reading XOXO