BOOKSTAGRAM MONDAY… Only it's NOT Monday as I've not been feeling well… it's a recurring problem I have that has been pretty bad lately… *sigh* So yeah this post is late but I SOO BADLY wanted to share it with you…
#ARCstravaganza is a weekly meme hosted by Flavia at Flavia the Bibliophile to give book bloggers a chance to show off the ARC/eARC beauties they received and spread the word about their most anticipated new releases! (Check out her page for more information.) Feel free to post your photos on your blog, Instagram, and Twitter with the #ARCstravaganza hashtag…
---
Last Star Burning by Caitlin Sangster
I'm loving the new way I'm doing my bookstagram pics! It's certainly a combination of what I do well (graphics) and making a story out of a picture. The settings have been AMAZE in my last few ARCs which has been a blessing and this one is set in the mountains of what could be China…
I'm consuming everything Asian that I can get my hands on and I'm excited to share this book with you about a plague! Dystopian is an old favorite of mine that I willingly dip into when I find a premise like this one… Okay, so yeah I've already finished this book and can tell you IT IS GRIPPING! You really CAN'T go on the blurb or rather the cover is more informative?! GAH… I'll explain more in my review soon!!
---
About Last Star Burning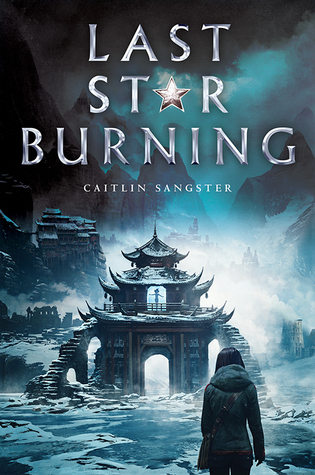 Sev is branded with the mark of a criminal—a star burned into her hand. That's the penalty for being the daughter of the woman who betrayed their entire nation.
Now her mother's body is displayed above Traitor's Arch, kept in a paralyzed half sleep by the same plague that destroyed the rest of the world. And as further punishment, Sev is forced to do hard labor to prove that she's more valuable alive than dead.
When the government blames Sev for a horrific bombing, she must escape the city or face the chopping block. Unimaginable dangers lurk outside the city walls, and Sev's only hope of survival lies with the most unlikely person—Howl, the chairman's son. Though he promises to lead her to safety, Howl has secrets, and Sev can't help but wonder if he knows more about her past—and her mother's crimes—than he lets on.
But in a hostile world, trust is a luxury. Even when Sev's life and the lives of everyone she loves may hang in the balance.
---
by Caitlin Sangster
Published October 10th 2017
by Simon Pulse
---
Are you a fan of dystopia? Do you enjoy medical centered stories? Political fused worlds? Do you read ARCs or instagram? Are you going to read Last Star Burning? My review coming next week!!