My TBR shelf is over a 1,000 books strong and I can't seem to make headway… so I'm doing this feature twice a month!! This time I actually let go of more than a third! Check out which ones…
Regularly I hit up my TBR shelf and pick off six books that have been there the longest and examine the pros and cons to keeping them or skipping them. My first aim is to cut my TBR shelf down by a third. My second aim is to sort those I keep into three piles: read soon, "keep" or someday. Did I make the right choice?
---
Graceling by Kristin Cashore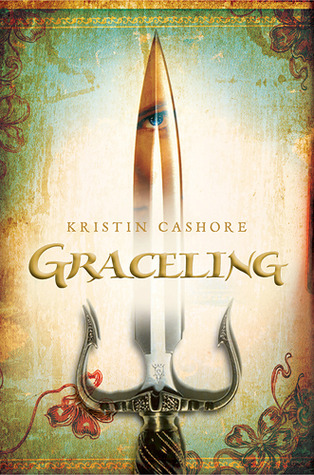 As a graceling Katsa is one of the rare people graced with killing able as she is to kill a man with her bare hands since she was eight. When she meets Prince Po graced with combat shills she is finally able to leave behind her life as the king's thug. Along the way she learns anew about her own grace…
While I understand this Katsa is an extreme sort of feminist who believes doing anything feminine is a crime I am SOO intrigued about the graces and what it means to be a graceling! Killing and combat seem like the same thing so we'll have to see how well the powers are developed. In any case I would love to read about the world and I understand the end is quite good!!
---
Donna was brutally attacked when she was seven by fey and only recovered due to the iron tattoos branding her hands and arms. With her father dead and her mother mad she doesn't feel gifted by her magical heritage. When her best friend Navin is abducted by wood elves she seeks the help of Xan, a half-fey dropout with secrets of his own.
The rating for this book is very low and many of the bloggers I know who have read this do not have kind things to say… All that aside I HATE whiny protagonists who call cool features about themselves (like tattoos) something to hate! So yeah, even though I love fae worlds I think we can skip this one…
---
Auracle by Gina Rosati
Anna can astrally project out of her body. The only one she's shared this with is her best friend Rei… When there is a fatal accident Taylor her 16 year old classmate takes over her body! Faced with a future trapped in another dimension, Anna turns to Rei for help but doesn't take into account their growing feelings…
This book sounds quite good and was well received by those on goodreads who read it… Yet the author has not written since 2012 and this is her only book! While I'm interested there are tons of books to read by authors who have a body of work… I think the best decision is to let this one go…
---
Struck by Jennifer Bosworth
Mia loves lightning! Set in a dystopian LA after an earthquak devests the city… she meets Jeremy who she is drawn to quite powerfully despite him obviously not sharing all he knows. When two warring cults rise to power, and believe she has a connection to the freak electrical storm that caused the quake, all hell is going to break loose!
Despite the middling rating I really like the sound of this book and the fact it is a dystopian! Unfortunately even the author felt it wasn't worth it as she hasn't followed the first book up with a second! So yeah if even the author herself is uncertain I've got to take a pass…
---
"Four thousand, three hundred and seventeen stitches, his father had told him once. All the King's horses and all the King's men had put Henry Franks back together again." A year ago Henry Franks lost the past 16 years of his life as well as his mother. While a serial killer stalks their small town, he unearths the truth behind his scars…
According to reviewers they LOVED this book for the most part but it also isn't exactly about what the blurb says… I kind of LOVE that and am SOO intrigued by what this book really explores!! It seems most readers came upon the book by accident and I was lucky enough to be one of them…
---
The Last Gunslinger, Roland of Gilead is a good man who leaves behind nothing but death in his wake. His quest? Through a desolate world, he pursues a man in black who can bring the dead back to life for his own evil purposes.
As there is an adaption of this series into a movie I really want to read it! I have wanted to read this series for a couple years now after reading some short stories about Roland… I still hold out hope that I will get to at least book one soon…
---

---
How do you feel about the books above…?
Did I cut a favorite of yours? Did I keep a stinker?
Is there a book I must read ASAP?
Do you read Stephen King?
How long is your TBR?
---
I'm totally happy to cut more than my goal! But I'm sooo sad to see authors give up after only one book…