We attempted a chapter book!! This is closer to his technical reading age and boy was this surprising! How? Read on to see…
My 10-year old nephew and I read books together every week and he draws a picture from the pages that captures his fancy. As a budding bookworm, artist and a child with an autistic aphasia we bond through stories and art.
---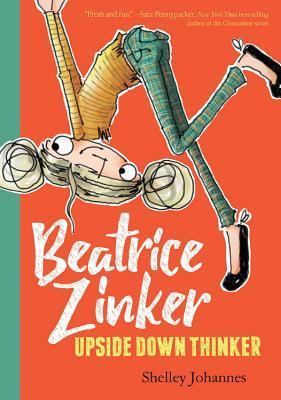 Beatrice Zinker, Upside Down Thinker
by Shelley Johannes
Published September 19th 2017
by Disney-Hyperion
Beatrice Zinker does everything better upside down! Over summer break she's missing her best friend, Lenny, but they have a top secret plan once school is back in session! Only Lenny doesn't come in a matching ninja suit on the first day of third grade… no! She's totally different with not only a cool new look but also a cool new friend… and there doesn't seem to be a place for Beatrice.
---
Thanks to NetGalley and the publisher for providing me with an ARC in exchange for an honest review.
---
pencil and colored pencils
---
A super upside down GIRL story!
I saw this on netgalley and it is the right reading age for my nephew so I thought we'd give it a go. My nephew really enjoyed reading a "bigger book" and said he liked it because it was funny. He didn't enjoy it the entire time we read though and struggled with making it to the end. The mass of words were too much for him and I had to switch and read one page and let him read a page, back and forth. It became less of a chore for him this way! If you have a child transitioning up from picture books this story is fun and zany and makes for a story that holds the interest of both parent and child.
The illustrations were wonderful and helped me hold my nephew's interest in the beginning! They really gave Beatrice tons of personality!! I honestly didn't find Beatrice believable as a character. Her entire motivation didn't seem to come from her as a person so much as an outside agenda. And Beatrice is so out there that I sympathized with Lenny! Once I went along with this other agenda I struggled less to get along with Beatrice. Don't get me wrong I liked WHO Beatrice was as a person, her insistence on doing things differently and her enjoyment in focusing on the individual. This disconnect for me probably stems from me being an adult and not a child!

"Just because I'm upside down doesn't mean everyone has to be. Isn't that the whole point?"
While I found Beatrice's conclusions a stretch her idea to befriend Chloe or lose Lenny teaches a great lesson, especially for girls who naturally have interpersonal problems. Different is okay and why not all be friends! Be accepting of everyone's differences… ALL worthy messages. These can cause a discussion (especially with a girl) as they are all ideals that can be applied to a child's life.
We both struggled in the beginning as there seemed to be 3 chapters about breakfast! It just took a long time to setup who Beatrice is… but once we got to school it got much better. For the most part I was taken with the story as I wondered what this top secret mission was all about! Once you learn Beatrice's plan and see how she wins over Lenny again you are totally invested in the story.
"Why don't you want to be a ninja?"

"Why can't you just be a cat?"
The friendship between Beatrice and Lenny seemed real to how girls are as far as how they grow distant from one another and fall out of their relationship. It really struck home to me even as an adult that there could be a different way for things to turn out!
Beatrice's family is a strong presence in her life. She makes strides with her totally opposite sister due to what she learns with Lenny. And her dad was super cute! He has the idea to have dessert first ala Beatrice upside down due to her bad day! They got pineapple upside down cake!

"Almost as good as bacon."
That is a dad! Knows just what you need when life gets you down, not overprotective but sympathetic.
Age Range: 11-14 years
---
Can Grow with a Child?
Message Driven Story?
Worthy of a Home Library?
Appropriate for Special Needs?