I did it folks… I got to the end of the series… You don't understand what a HUGE, mega deal this is because I dodge finishing series. I think I may worry too much or have commitment issues I'm not sure which… I WAS NOT disappointed by the final book, read on to learn more…
---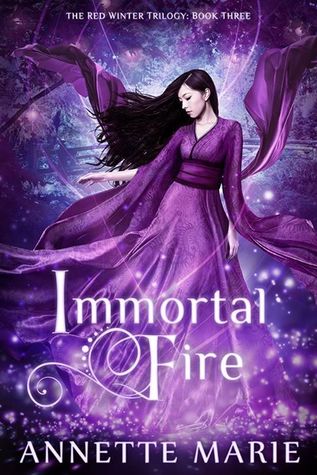 Immortal Fire

Red Winter Trilogy #3
by Annette Marie
Published April 11th 2017
by Dark Owl Fantasy
In the final installment of the Red Winter trilogy Emi is closer than ever to the solstice when her immortal goddess Amaterasu will descend and take over her human body. She only has a few short weeks to find the last Kunitsukami and come up with a plan to protect the world from the immortal goddess Izanami and her powerful immortal brother Izanagi. As Yumei and her yokai allies gather more troops she and Shiro have to face the fact they will not be able to be together…
I fell in love with Red Winter (read why here) and I came to adore Dark Tempest (read why here), but would Emi and Shiro's tale end in an epic way? Yes, yes, yes! I knew that I was in for the best ride of my life when this book did not suffer from the same drag, sag and lag opening as the first two books. Openings in this trilogy have consistently been a problem but not this time…!
I've been a fan of this world from the beginning but this time around we get to see what a privilege Emi had to be able to interact with such beings; to love them, befriend them and support them. In other yokai centered stories there is little explanation why people consider them a myth nowadays if they still exist, this story has those answers and they are bittersweet!
The plot was quite good. I loved the beginning with Tsukiyomi and the introduction of shikigami added a lovely evolution to the yokai and Kunitsukami. Emi's ideals as a kamigakari are threatened here. It is more than just being unpure due to her relationship with Shiro and about what it really means to be committed and true to yourself. This arc continues to challenge Emi when even Shiro is affected by her idea of purity. The balance of personal arc and romance arc was spot on. As Emi grows her relationship with Shiro grows deeper. It is quite a beautiful thing.
"Purity and morality are not synonymous. Purity is born of pure intent, of faith and confidence in one's choices. When one acts with conviction, his ki will be pure and powerful, and that, kamigakari, is the source of all strength."
Also Shiro knows what kind of lover he wants to be and he remains true to that idea in all situations. We don't get your traditional character arc for Shiro because this isn't a multiple POV book but we can peer into the yokai and see what he believes and see him trying to respect Emi's beliefs even when they wound him deeply. And Emi respects that Shiro is a super powerful GOD who is going to come to her rescue at times but will also fight back to back with him to save the world. This kind of mutual respect for the roles they play in life is what all lover relationships need in books today.
I want to say that this book becomes softer in the middle but it doesn't really. The pace is kept quick and the battles balanced with the intimate scenes between Shiro and Emi. I think though what I'm feeling is that the softer scenes shine just as bright as the battle scenes. The moments between the two of them caused you to ship Emi and Shiro in the first two books but in this book you really feel they have become a couple.
The plot is deceptively simple but the action keeps coming at you. There is a lull at the 50ish% mark that continues to around the 70ish% mark. It isn't that nothing happens or that it is dull or boring but they are preparing for the final battle. I actually loved these scenes of camaraderie and friendship. The friendship between Yumei and Emi is quite beautiful in this book and definitely more pronounced than the other two books. It actually becomes an anchor for her that without she may have suffered greatly without.
The other plot thing that I found intriguing was the looong ending. It's cut up into parts but it was so intriguing how the end opened up like an onion layer by layer and when you think you know where the end is going you are surprised by another twist and turn. I loved that Emi was not on the sidelines for this god and goddess filled battle. I also appreciated the scenes where the gods worked together as a group to take down their biggest foe. There was development for all the characters to shine! Emi's end as the kamigakari was terribly intriguing and not what I expected from the hints and foreshadowing, luckily the end didn't stop there. It felt a backwards way to end it but not wrong.
The cover is beautiful and like the other ones suck you in due to the atmosphere they imbue the blurb. I'm not sure they totally fit to tell you what the book is about but they speak about the series as a whole. I perhaps love the title most of all. It is rather one of those romance ripper titles but really when you read the book you go, oh yes this title is perfect! The interior manga/ graphic novel pictures do add to the story. There were a few missing in the arc and I felt their loss keenly. I do wish though in shots of Shiro that his face markings were represented – this bugged me in each picture I saw of him.
Perhaps the thing that excites me the most is that the author's storycraft has improved immeasurably in the final installment. I so look forward to what she comes up with next! (Please say Yumei spin off!)
As a series I so enjoyed each book of it and how they got better and better.
BOTTOM LINE: A satisfying ending to Emi and Shiro's yokai and immortal goddess story.
---
We meet more yokai than ever before and I love how integral to the plot they continue to be. The kanashibari was such a smart idea to give us information we needed to understand Shiro and Yumei better without it being one long story told in dialogue. Choices like this one elevated what one would say is "just your typical supernatural romance" – there is nothing typical about it!
---
∞
Thanks to Xpresso Book Tours and Dark Owl Fantasy for providing me with an ARC in exchange for an honest review.